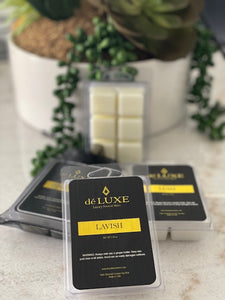 *Select your desired scent using the drop down menu*
As the cubes melt, they fill your space with our exclusive scents
Descriptions:
Fortune
Fills the air with the unmistakable scent of Gardenia and a slight hint of tuberose and Lilac blossom.
Lavish
A fresh & clean aroma of a Sedona cactus flower with mid notes that are woody – amber wood, violet, jasmine and the base notes are blended with patchouli, musk & vanilla.
Luxurious
Blended scents of grapefruit, oranges, lemons, strawberries, and ripe raspberries will transform any space into paradise.
Lush
Breathtaking scents of amber, musk and vanilla igniting your senses for a superior fragrance experience.
Safe to use - no wick, no flame, smoke or soot
Please note: A wax warmer is needed for use